This article contains affiliate links. If you make a purchase after clicking on a link I may earn a small commission at no extra cost to you.

Audyssey Technology for Awesome Sound In The Onkyo HT-S6500
The Onkyo HT-S6500 is packed with advanced features and remains easy to install and operate. Simply connect your LAN cable, or a wireless LAN adapter and it can launch music on any computer connected to its network.
You can enjoy internet radio from Spotify and music streaming with MP3 tunes in just a touch of a button, and receive superior audio clarity delivered by the HT-S6500's WRAT amplifier and 2-way speakers. A USB 2.0 port is also included for connecting your iPhone, iPod or memory device containing your audio tracks. 72% of reviews on Amazon were 4 star and above, with loads of satisfied purchasers with this Onkyo AV receiver.
Benefits of the Onkyo HT-S6500:
Audyssey Technology for Awesome Sound
130 Watts per Channel (6 Ohms, 1 kHz, 1% THD, 1 Channel Driven); 80 Watts per Channel (8 Ohms, 20 Hz 20 kHz, 0.7% THD, 2 Channels Driven, FTC)
4 HDMI Inputs and 1 output for hi-res content from your media players and gaming consoles
HDMI enables Dolby® TrueHD and DTS-HD Master AudioTM surround-sound formats, and supports 3D video playback
Pro Logic IIz creates a surround-sound experience from any movie or music source
Bluetooth Streaming Ready: compatible with optional UBT-1 Bluetooth USB Adapter for wireless audio streaming
Powered Zone 2 and Zone 2 Line-Out for distributed audio playback in another room
2 USB ports to connect iPod/ iPhone and mass storage devices loaded with music. Direct digital connection of iPod/iPhone via Front-Panel USB Port
It also has 7 HDMI ports that will integrate all your HD components and supports DTS-HD Master Audio and Dolby TrueHD, 3-D Video and ARC for television audio via the home theater. Having this amount of connectivity options will enable you to really set up a large configuration of audio and video sources to be played through the receiver at any time you want.
Key features of the Onkyo HT-S6500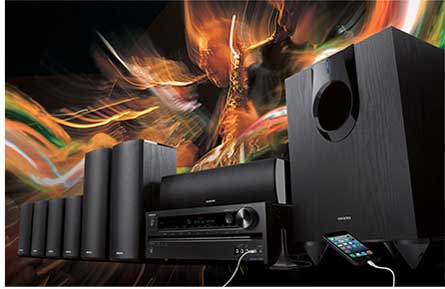 Wide range amplifier technology (WRAT)
This advanced amplifier technology enhances the precision of amplified audio and at the same time minimize noise across the frequency range for a balanced delivery even with the most impulsive soundtracks.
The HT-S6500 comes with a matching Onkyo speaker set that provides clear and crisp audio reproduction. The floor-standing, 2-way front speaker allows outstanding mid-range response while a balanced dome tweeter delivers clean, well-isolated highs.
Its center speaker also features a pair of woofers and a tweeter with each satellite using a state-of-the-art full-range driver. Bottom-end impact is provided by a subwoofer that is powered yet energy efficient, as it draws up to 80% less power over average receivers.
Onkyo HT-S6500 Video performance

No matter if you're playing games, music, or even HD movies, the Onkyo HT-S6500 A/V offers up to 4k scaling of common video sources like 480, 720, and 1080i/p.
The interlaced to progressive video front scaling and conversion are made possible by Marvell's Qdeo technology. The unit also supports both 3D Video and sound return channel for a home theater experience like no other.
Onkyo HT-S6500 Features Audio Streaming And Internet Radio
The Onkyo HT-S6500 will let you stream audio tracks stored in a computer, tablet, or mobile phone in three different ways through Onkyo's network receiver. The first option is the wireless connection with the UBT-1 Bluetooth-ready USB adapter. Two is by connecting it to the home network with the UWF-1 USB LAN Adapter. And finally, by connecting directly to the home network using an Ethernet cable.
The HT-S6500 can work with different formats such as WMA Lossless, MP3, FLAC, and AAC, and supports a range of internet radio services like SIRIUS XM, Slacker, Pandora, vTuner, and Last FM. Cloud based music streaming is also very much possible through AUPEO, Rhapsody, and Spotify.
Amplification Channels
Although the HT-S6500 and HT-S7500 have a different number of available amplification channels (5 and 7), both receivers have 80W per channel. High-quality TI Burr-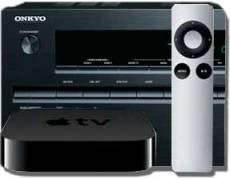 Brown, 192 kiloHertz per 24 bit DACs are utilized on ever channel.
Onkyo HT-S6500 Additional information
The Onkyo HT-S6500 is not the bulkiest among network receivers with a dimension of 20.2 by 30.4 by 26.6 inches. It is however, a heavyweight entry at 36.7 pounds. It comes with the Audyssey 2EQ, Dynamic EQ, and Dynamic Volume integration for a powerful, but clear and balanced surround sound. The home theater A/V receiver is backed by the company's 2 year limited warranty on parts and service.
Our Final thoughts on the Onkyo HT-S6500
If you like to watch movies through this receiver, then you will love the clarity and sharpness of the images. The sound is also really crisp and detailed. Playing any audio through the HT-S6500 is just as rewarding, as you really get the finest quality sound coming out of it. The pricing of the Onkyo HT-S6500 is reasonable, you do get a very good receiver for your money in this model.


Summary
Reviewer
Review Date
Reviewed Item
The Onkyo HT-S6500 5.1-Channel Network A/V Receiver and Speaker is a complete package delivering the ultimate surround sound home cinema listening experience as if you are at the movies
Author Rating