This article contains affiliate links. If you make a purchase after clicking on a link I may earn a small commission at no extra cost to you.
Streaming Sound & Movies With The Onkyo TX-NR636 7.2 A/V Receiver
The Onkyo TX-NR636 7.2-Channel Network A/V Receiver is one of the more recent entries into the market and has gained quite a footing in the hearts of users.
Onkyo has always been known about delivering quality products that are not only effective, but long-lasting. Does the Onkyo TX-NR636 Receiver live up to the billing as it has in the past, or is it just a bowl of promise and nothing more….?
This review of the Onkyo TX-NR636 7.2-Channel Network A/V Receiver will take a glance at what the product has to offer those who want the best of the best and will stand for nothing less.
Benefits Of The Onkyo TX-NR636
Currently available at a massive 53% of the regular price, grab a bargain
5 of the 7 HDMI inputs supports 4K video for thunderous 7.2-channel surround-sound
Double the power with two 32-bit processing engines decoding multi-channel studio-resolution soundtracks
Built-in internet radio and streaming with Dolby Atmos surround-sound
Built-in Wi-Fi and Bluetooth streams any music stored on your device
AccuEQ simplifies the initial home theater setup process and makes both surround sound and two-channel audio more cohesive and realistic in your listening space
Supporting next generation HDMI 2.0 and HDCP 2.2 copy protection
HDMI 2.0 Connectivity On The Onkyo TX-NR636

This is one of the biggest plus points with this receiver. Most receivers from other brands that are coming in at this price point of around $700 will not have HDMI 2.0 connectivity. It is just not feasible for them and they do not want to go down this road.
However, Onkyo has decided to include the HDMI 2.0 connectivity in their receiver and that puts it ahead of the game right off the bat. If you want this type of connectivity to get that 'ULTRA HD' look that is promised, you have to go with this receiver. There really is nothing else that is worth your time or money.
7.2 Channels on the Onkyo TX-NR636
This is excellent because compared to some of the lower line receivers, this receiver has 7.2 channels to power your home system. It is excellent because there is more quality on offer for those who want something that is going to be appealing.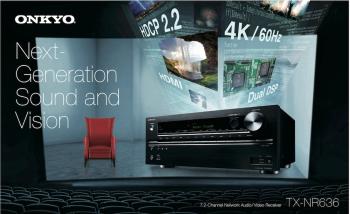 This is truly fantastic because the 7.2 channels can be installed in the home to put together a powerful system that takes care of all angles at once. For audiophiles, this is the kind of power you can only dream of at this price point. It is a sensational purchase just because of this.
Onkyo TX-NR636 has Integrated Bluetooth and WiFi
You want to get even more future-centric with the receiver that has been created? What about the incredible Bluetooth and WiFi that is on offer? This is fantastic because the Bluetooth and WiFi put it ahead of the game for those who want to connect their other devices to the receiver.
You do not have to worry about having to physically connect devices as that can become a headache and make the entire problem frustrating. This is as good as it gets for those who want something fun and future-oriented.
As mentioned on numerous occasions, this receiver is great just because of its price point in comparison to what is being offered. You do not have to worry about looking elsewhere because at this price point, you will just not find anything else that is going to get the job done.
The world's many audiophiles that are on a budget will rejoice when they see this receiver. This is a lovely addition to the world of entertainment because of how crisp the results are when the system cranked into action at home.
Final thoughts on the Onkyo TX-NR636 Audio Visual Receiver
In the end, this is an exceptional receiver and one that should be entertained by those who want something that is worth their time and money. No one wants to find a system that is just getting by because that can become frustrating in a hurry.
This is a quality option for those who are searching for the next best thing that is designed to last. The design that has been put in place with the Onkyo TX-NR636 AV receiver is future-centric and that is a great plus point to have as technology is constantly changing around in the modern era.