This article contains affiliate links. If you make a purchase after clicking on a link I may earn a small commission at no extra cost to you.
HD large screen televisions are offering greater features and benefits as technology seeks to constantly improve customers home thater experiences. There is only so much technology which can fit into a single system. Home surround sound systems need to be uber sleek and chic these days, and this means  sacrifices may need to be in the way of productivity.
This where where the Onkyo TX-NR626 7.2-Channel Network Audio/Video Receiver comes into play. Onkyo's creators famously claim they can take a top of the range entertainment system and turn it into home cinema system that is mind blowingly amazing in the delivery. The goal today is to put that claim to the test.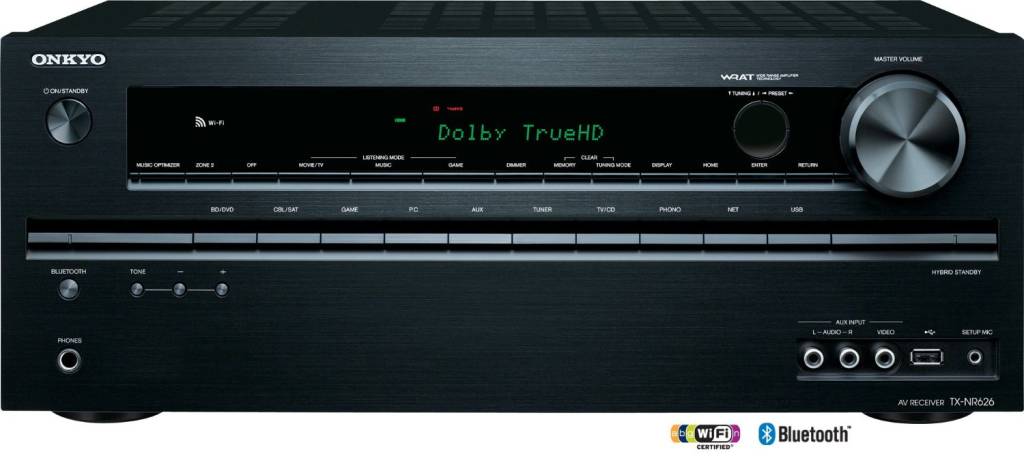 How Was The Onkyo TX-NR626 Tested?
There are a few different TVs here that the receiver is going to be tested on. These range from high end Vizios (1 42″ and 1 60″) and a mid-range Samsung (42″). Both brands are HDTVs of the highest advertised quality, so the product is going to need to perform well to cause a noticeable difference.
A streamed baseball game will be the content that is tested with the Onkyo TX-NR626, as it should provide a good mix of manufactured audio, ambient sounds and fast paced video to keep track of.
Benefits Of The Onkyo TX-NR626 Av Receiver:
Choose to stream hi-res, lossless, and compressed formats from your Smartphone, tablet or PC and NAS using Onkyo's remote app for music selection and playback
6 HDMI inputs and two ARC-enabled outputs support 4K and 3D pass-through
MHL port handles hi-res video from Smartphones and tablets
USB port for audio playback from flash memory drive
95 Watts per Channel (8 Ohms, 20 Hz 20 kHz, 0.08% THD, 2 Channels Driven)
115 Watts per Channel (6 Ohms, 1 kHz, 0.7% THD, 2 Channels Driven
Built-In Wi-Fi-Certified Wireless LAN Capability
WRAT amplifiers for front and center channels delivers phenomenal surround sound,
Onboard Bluetooth Audio Streaming Technology
Powered Zone 2 and Zone 2 Line-Out for Distributed Audio Playback in Another Room
 Onkyo TX-NR626 7.2-Channel Network Audio/Video Receiver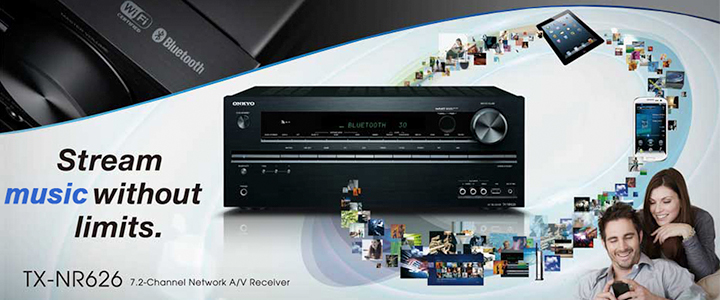 The picture this audio receiver puts onto the screen is absolutely amazing. The ESPNHD broadcast comes through clearer than ever, and a mid quality stream from the Internet looks like it has been upgraded to 1080p. This product definitely gets a 10/10 from the video side of things.
The sound quality is another high mark for the Onkyo TX-NR626. The receiver uses Bluetooth to sync up with the video stream to make sure sound stays true to form, and there were no noticeable jumps or lags in the sound/video quality as we tested on each unit.

Did We Find Anything Not to Like About Onkyo TX-NR626?
Setting the Onkyo TX-NR626 up was a bit iffy. If you're not used to messing around with electrical equipment then you're going to find that the instructions are just a little bit confusing. All of your home entertainment system is going to be funneled through this receiver so it is going to take some time and effort to set up.
If you're looking for a low price point receiver, then you're going to be a bit disappointed with this AV receiver. You're getting a great deal for what the product does, but be ready to fork over a bit of cash to get that quality.
Should You Buy The Onkyo TX-NR626?

If you've never used a receiver to enhance your entertainment experience before, then you're going to find that the Onkyo TX-NR626 7.2-Channel Network Audio/Video Receiver is a good place to start out with. It is in a very affordable price range, and when you consider the change in quality you will hear and see visually, it is well worth the money for a complete and pleasing home cinema experience..
The sound and video quality on this system are absolutely amazing. When a receiver can take a broadcast that is already in HD and find a way to make it better then you know that you have a winner on your hands.
If you follow through and buy this (and you definitely should) expect a bit of a learning curve when it comes to setting things up. Don't lose heart though; because once you have all of your wires and connections squared away actually running the receiver is very simple.
You'll pick up the basic functions in just a few minutes and there is a comprehensive manual included to cover almost all of the other actions that you might want to take.
It's time to bring your home entertainment system to the next level.
Get your own Onkyo TX-NR626 7.2-Channel Network Audio/Video Receiver and enjoy A/V the way it was meant to be.